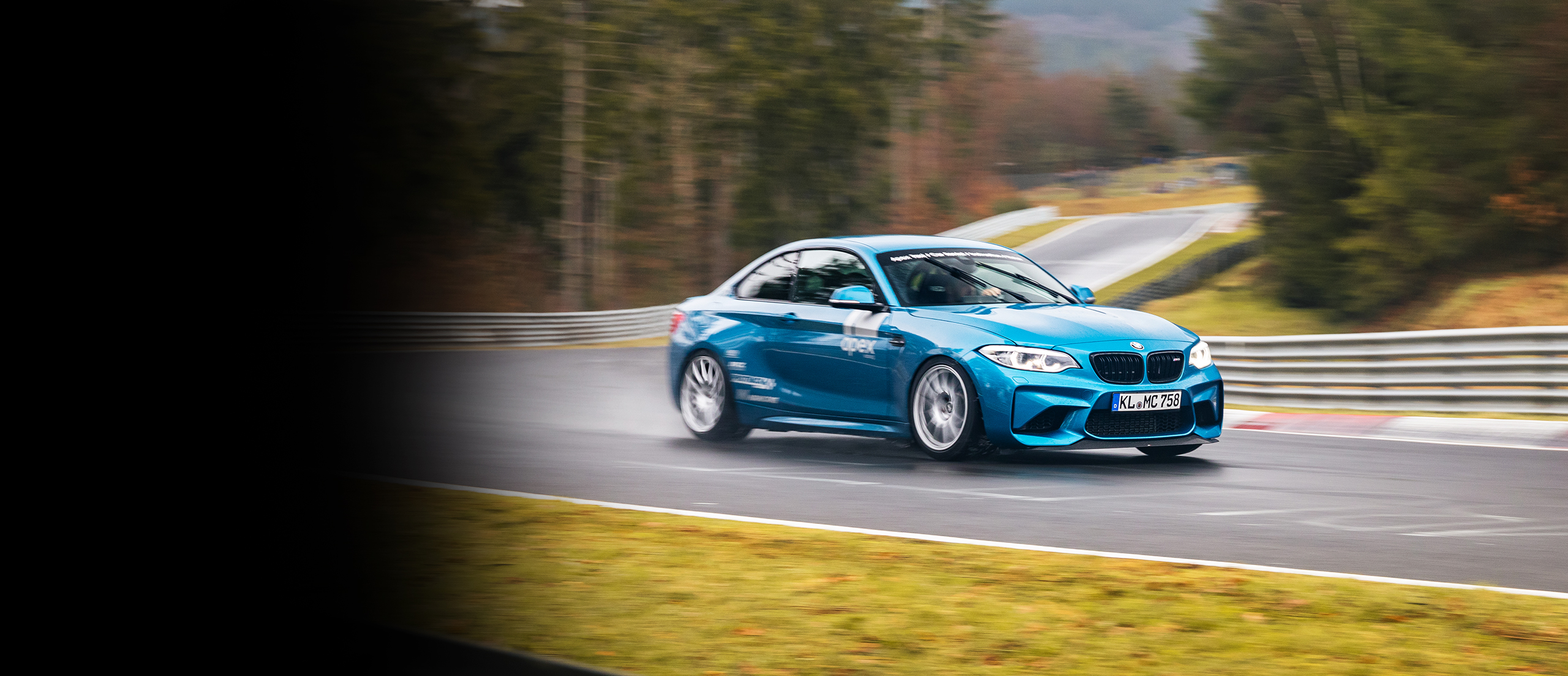 get behind the wheel
at the heart of car heaven
driving experience
the ultimate
As we are looking to share our passion and knowledge about the Nürburgring, and its surrounding areas, we've compiled an assortment of services that, when combined, make up for the ultimate automotive experience. Ranging from track-focused rental cars and coaching by the most experienced instructors of the area, to road tours through the fairytale-like scenery, we're at your disposal to make you a personal (multi-day) package, tailored to your wishes and needs.
No matter your experience, skill level or driving style, here at Apex Nürburg, we have something for you. We have compiled a variety of cars that we believe will tailor to nearly every driver's needs and wishes. Each of our rental cars have also been precisely set up by our expert mechanics to ensure you have both a safe and fun Nürburgring experience. Take a look at the full fleet by clicking the button below.
SEE OUR RENTAL CARS
We understand that it can sometimes be quite intimidating to tackle one of the most demanding racetracks in the world, whether it's your first time or not. Don't worry, we have our expert team of instructors at hand to help you get around safely, and successfully tick off that bucket list item. Meet them by clicking the button below.
MEET THE INSTRUCTORS
We are lucky to operate out of one of the most stunning parts of the world, the landscape is breathtaking. Whether it's one of the many castle ruins that line the surrounding area or the beautiful driving roads, it's definitely worth a visit. This is why we offer a range of road tours in our vehicles. Take the wheel and experience the sights and sounds of the Eifel.
SEE OUR TOURS
Track days are designed for those of you who would like to drive all day. There are certain days in the season where independent track day companies will rent out the Nordschleife and sell a limited amount of tickets. For these days, our track car rentals are available for you to enjoy! Check out the upcoming track days by clicking the link below and get in touch!
UPCOMING TRACK DAYS
more
information
For more information about the process on how to successfully book a rental car at Apex Nürburg and drive the Nürburgring, please click here. For more information on our rental process, insurance and policies, please visit our information sheet, or check our terms & conditions. For track day rental prices, or road tour rates, refer to our price list.  
Need somewhere to stay? Check out our hotel!