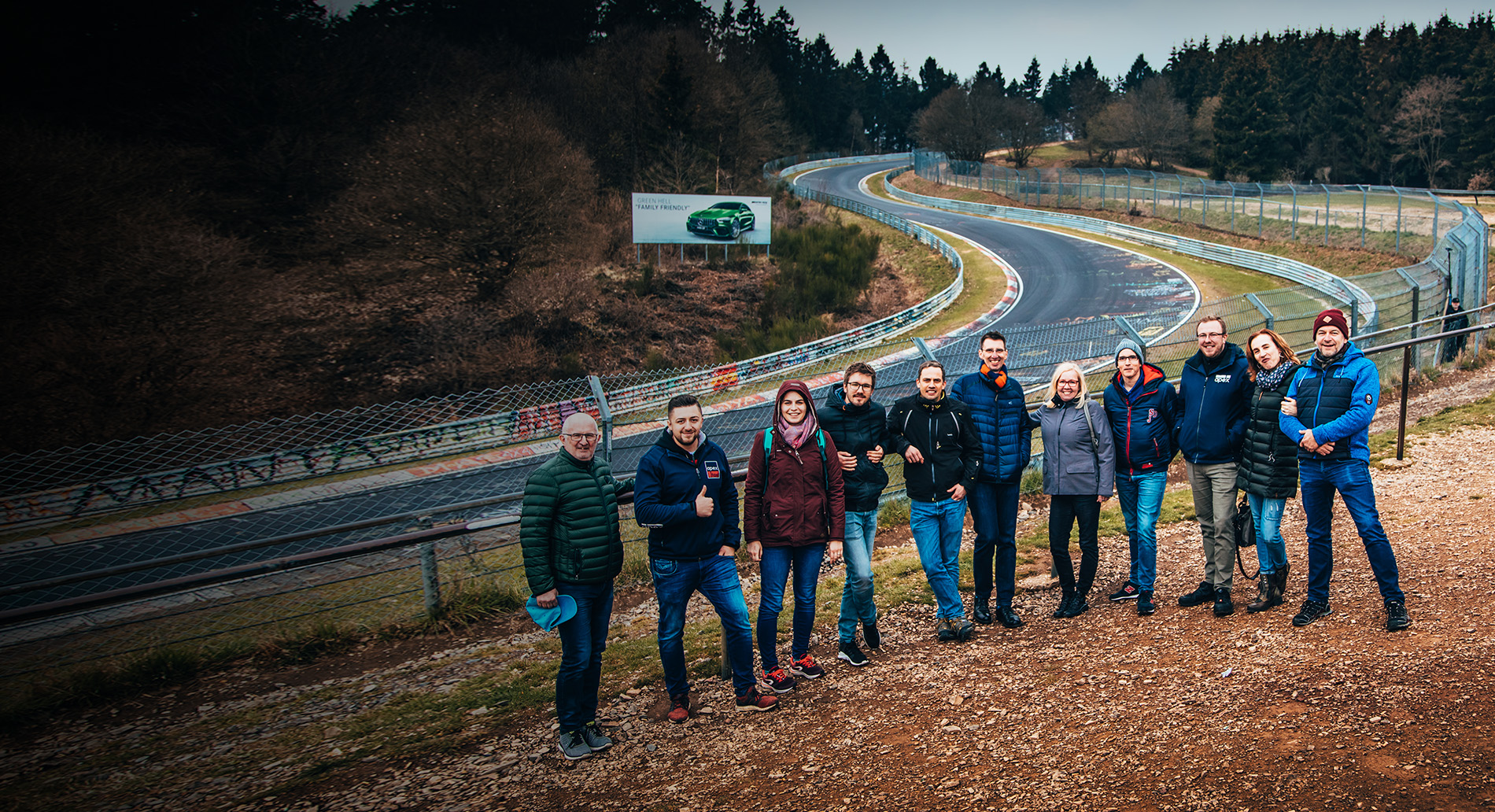 Betriebsausflug
An experience
to remember
high octane trips for
your company!
TAILOR YOUR PACKAGE
When it comes to your annual betriebsausflug we have the perfect solution. With a wide range of services and activities at your disposal we'll work with you to tailor make the perfect trip for you and your employees. Whether it's scenic road tours or high octane taxi laps that you desire, we'll ensure you have an action packed experience with memories that will last a lifetime!
Through our Apex Taxi program we are proud to offer you the three most exciting taxis on the Nürburgring. Join our professional racing drivers and strap in for the ride of your life! No matter if you select our stunning McLaren 600LT, the N24 proven BMW M4 Schirmer GT or our unbelievable BMW M3 Schirmer GT  (4 seater race car), you are in for an unforgettable experience. We have various package deals available for your company trip. Contact us for more info and to discuss your needs!
Take the wheel of one of our track prepped rental cars and tackle the world famous Nürburgring! We have many different cars catering to all tastes and abilities. You and your co-workers, alongside our experienced instructors, will get to experience the greatest race track in the world with the people that know it best!
No less than 90 years of history surround the Nürburgring, lost landmarks, breath-taking scenery and winding roads await you! Join Apex Nürburg, get behind the wheel of your favorite Apex car and take a peek into the true innerworkings and stories behind the Nürburgring that only a local expert would be able to provide. We will take your company and show them the ins and outs of the Nürburgring, everything it has to offer and its hidden gems.
The Nürburgring plays host to many exciting races from VLN to Blancpain, let us bring your company to the heart of the action. Our guides will take you through the pits and paddock of the races and show you what it's all about. You will be taken to many different corners and shown the best spots to see the action. In between all of that you will be granted access to our VIP lounge where you can enjoy a selection of drinks and food.
Our in-house media team are on hand to help capture your trip from start to finish. Whether you want some simple group shots or a high production video of your trip, we are here to deliver you the best quality work.
Here at apex we also have solutions for accommodation. Our hotel boasts 5 luxury rooms sitting within the actual boundaries of the Nordschleife. Our luxury hotel rooms range from twins through premier suites and are the perfect base for your excursion to the Nürburgring. When you are finished racing, you will find that Apex Nürburg's stylish hotel rooms and relaxed lounge paired with the team's local knowledge and helpful service will complete your ultimate get away. If your group requires more than 5 rooms we also have connections with our neighbouring hotels and can help accommodate you.
Contact us to tailor make your company package!