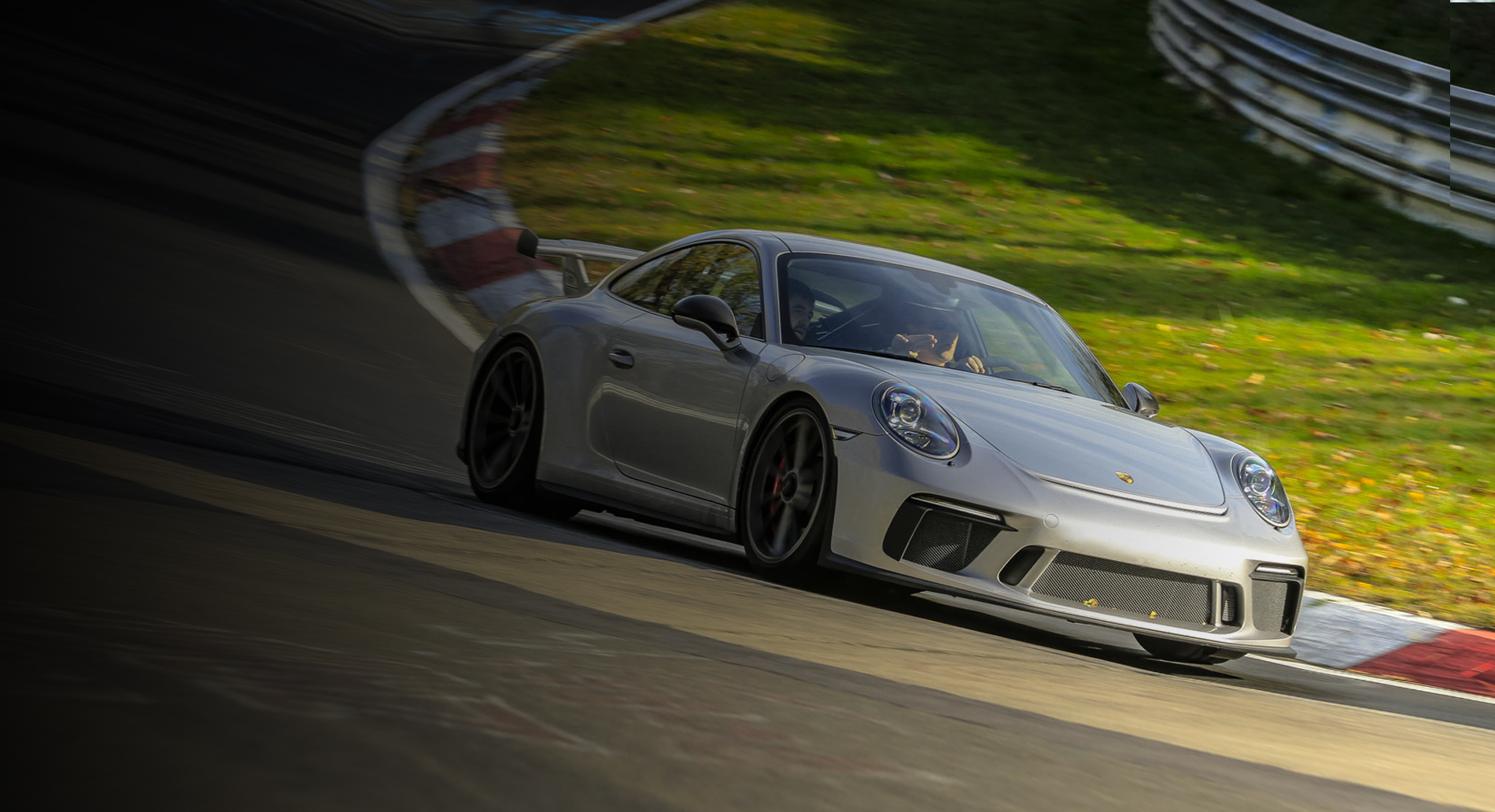 Back to
SCHOOL
Take advantage of our
experienced instructors.
FIND OUT MORE
Whether you are starting to explore driving the Nürburgring, or you have done a considerable number of laps, it is safe to state that – although everybody's individual goals may be different – everybody wants to keep themselves, their finances and their car safe.
We offer different levels of instructions, depending on your needs and wishes. The most common setting where our instructions take place, is during a public session in one of our rental cars. In a few of our rental cars, it's even mandatory for every driver to take the instructor with them on (at least) their first lap. The reasoning behind this is that our higher-tier cars are more demanding to drive, and we want to make sure you get the most fun out of your laps, while considering your own safety, and that of the car and the other drivers.
Introductory coaching
Remembering all driving regulations and understanding the unspoken rules of a public session (or Touristenfahrten in German) or a track day on the Nürburgring can be confusing and complicated. With a detailed pre-briefing from an Apex Nürburg instructor, you'll be able to hit the track feeling just like a regular.
Perfection training
Instructions are not only a service for beginners. If you'd want to bring your performance to the next level, our perfection training is designed to get the most out of each driver, and to focus on driving technique, car control and preparation. After every couple of laps, the instructor will sit down and evaluate the laps with you, so that when you go back out on track, you have all the information you need to improve fast. An essential add-on we offer is the rental the RaceNavigator, which provides footage and data for your instructor and you to analyze. The more in-dept type of instructions are only possible on a track day, and on certain track days, we can even organize a lead-and-follow session. This is where our instructor would not sit in the car with you, but rather drive behind or in front of you and observe your driving from the outside. The information you can acquire from trailing a driver is significantly different than from in-car instructions. A perfection training package is tailor-made, so do not hesitate to reach out to the team for your personal offer.
Tamara is a real Nürburgring fanatic and her philosophy is that it's never too late to start and never too late to improve. Her aim is to help you learn the track through improved driving skills and teaching you the proper racing line on the Nordschliefe. Driving with Tamara will help you develop a safe and confident base for your visit at the racetrack.
BOOK INSTRUCTIONS
Coming from a family of petrolheads, Hendrik started raking up automotive experience since he was very young. As he found his way to the Nürburgring, he fell in love and never left. Hendrik participated in every Nürburgring-specific racing series you can think of, including the 24-hour race, and can't wait to share his insights and fine-tune your driving skills.
BOOK INSTRUCTIONS
Alex has been into motorsport since he was a young child. In 2013, he made his way on the Nordschleife, to go on and win different races there, and becoming an expert in both driving and fixing cars. Alex will be able to not only fine-tune your driving skills, but will also be able to provide with some mechanical and technical insight. 
BOOK INSTRUCTIONS
Laurin has the goal of making you a better driver. That does not only mean to make you a quicker, but also a safer driver, which will lead to you taking much more enjoyment out of your laps. No matter if it's your first  laps or if you're an experienced trackday enthusiast, you're in the right hands. The focus is on you as a driver and your individual goals.
BOOK INSTRUCTIONS
As a test driver for Jaguar and Land Rover, Thomas has compiled a substantial knowledge base on how to safely tackle the Nordschleife, while getting the most out of the vehicle. Add another 9 years of racing the Nürburgring, and you get an instructor that can offer you the perfect mix of experience and entertainment.
BOOK INSTRUCTIONS
Found your instructor? Now pick your car!